Picking the right platform for your Session Recording study is not always an easy task. Even when you choose a good one, like Hotjar, you can run into some complications. But there is nothing to worry about. Market today offers a big variety of Session Recording platforms and I'm here to help you explore your options with this pricing and feature comparison of some of the Hotjar alternatives.
What is Hotjar?
If you found yourself looking for Hotjar alternatives you're probably already familiar with the platform. It's one of the giants on the market, which also makes it quite pricey. Hotjar offers a typical session replay tool that might help you spot the website problems right away. A heatmap analysis feature, however,  comes as a separate tool.
Why might you be looking for Hotjar alternatives?
 They have a decent user interface, but their statistics could be a little more complex. Hotjar additionally lets you record the testers' voices and add notes at certain points in the video. But there is nothing that other session recording platforms can't give you.
So, if you've been looking for a good Hotjar alternative, this list is for you. Let's get into it!
Top 5 Hotjar alternatives:
UXtweak

Smartlook

Fullstory

Mouseflow

Crazy Egg
UXtweak is a great session replay tool that allows you to easily track all of your users' activities with your website. It is a solid Hotjar alternative. The SmartSearch filters in their session recording tool are its most valuable feature. One of the difficulties UXers have with session replays is that analyzing a large number of visitors is highly complex and time-consuming. UXtweak allows you to just filter out sessions by more than 40 specific criterias.
Features:
Activity tracking

SmartSearch with 40+ filters 

Heatmap analysis and page speed metrics

Detailed user profiles

Allows to skip inactivity, take notes, adjust playback speed or share the recording with a secret URL

Easy implementation
Pricing:
Free forever plan with unlimited studies.
Pro plan is 70€.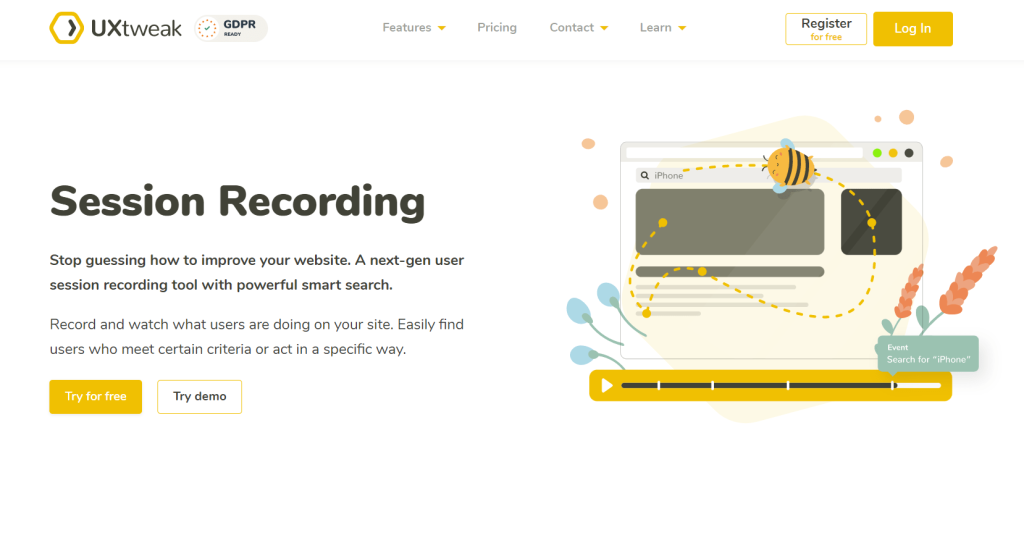 Smartlook can let you track and analyze user behavior on a website or in a mobile app. They provide comprehensive heatmap statistics as well as an always-on recording tool that records each and every user. It may also be a good Hotjar alternative with comprehensive statistics, however some users have complained about the bad quality and lack of information in the scroll recordings, so keep that in mind.
Features:
Heatmap analysis

Deep analytics with funnels

Always-on recording

Filters
Pricing:
Free plan available.
Startup plan is €31 and Business is €79.
Fullstory is another good tool for getting to know your users. The main service they provide is session replay, implying that analytics are particularly focused on this product. However, if you want to integrate things like heatmap analysis and other features, you might want to look into other platforms.
Features:
Session replay 

Rage Clicks, Error Clicks, Trashing Cursor

All-users recording

URL and event based funnel setup
Pricing:
A free plan and a free trial are available.
Pro plan starts from $199/month.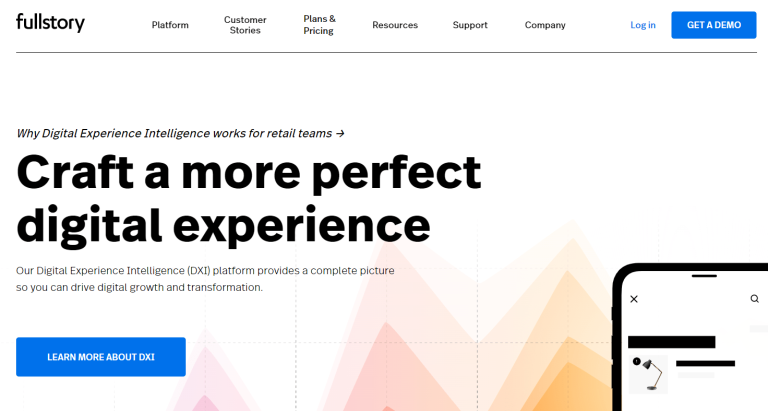 It's a behavioral analytics platform that offers Session Recordings as their primary feature. Mouseflow's UI feels a bit outdated, but it's not such a big problem. However, the data may be hard to read and  analyze and overall, I would not recommend this tool for a complete beginner.
Features:
Recordings

A separate heatmap tool
Pricing:
Free plan
Paid plans start from 24€ and go up to 299€
A user-friendly platform for website owners to try as an alternative to Hotjar. It, like the other softwares, displays all of the actions that users conduct on your site. It has a nice user interface, however the stats aren't that detailed. Crazy Egg doesn't have a free plan either, however they do have an A/B testing tool that you may utilize in conjunction with session replay.
Features:
Heatmap analysis

Tagging

Filters

Ability to save favourites
Pricing:
There is no free plan, but a free trial is available.
Paid plans range from $29/month to $249/month.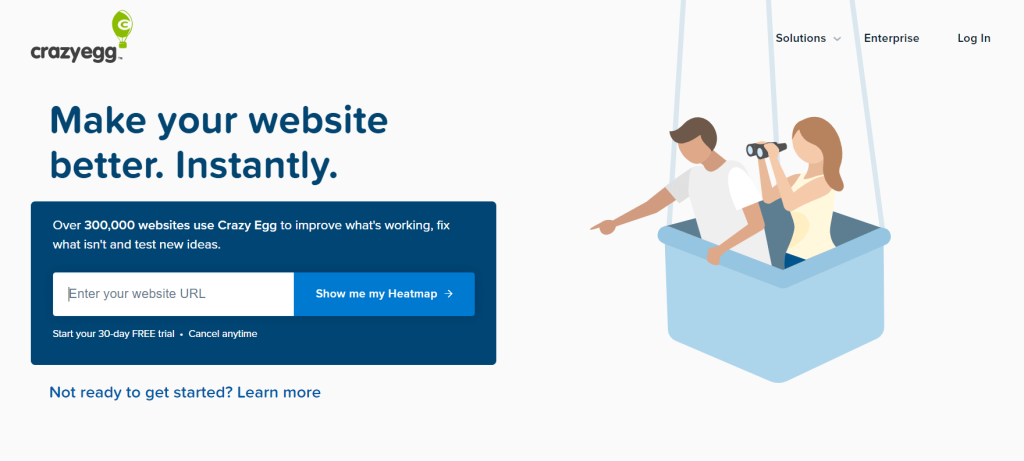 Ready to choose your Hotjar alternative?
I hope this list was useful for everyone who is looking for a good session recording tool to analyze their website. No more excuses, go improve your web!